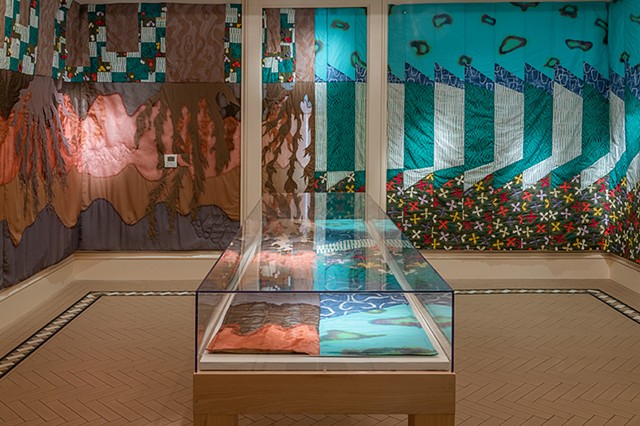 Brooke Erin Goldstein, "Reverberations" Photo by Virginia Harold
Bio:
Brooke Erin Goldstein is an artist, curator and pet care professional living and working in the greater Providence RI area. She was born in New City, NY and began taking art and sewing classes at the age of 3. She is graduate of the Rhode Island School of Design with a degree in Textiles. Her creative professional career started with her work as a technical, textiles and surface Designer in the apparel industry. Brooke previously sat on the exhibition committee as an advisory member at the Jamestown Arts Center and had headed the Rhode Island Jewish Museum exhibition committee. She has road tripped through all the continental U.S. states except for Nebraska and likens the changing landscape to her love of repeating pattern and textile surface design. Brooke currently owns and operates two businesses. The experience she has gained from being self employed for the last 18 years has made her deeply devoted to the promotion and empowerment of entrepreneurship world wide.
Artist Statement:
From the moment we are born our relationship with textiles begins. Color, texture and repeating patterns not only cover us but surround us. Fibers are the supporting players of our memories and daily actions. As a textile artist I use our human connection with fabric to immerse the viewer in an emotional experience.
My work incorporates a variety of techniques such as quilting, fabric painting, digital printing, and surface design based drawing. The presentation of my work usually manifests into immersive and/or interactive installations or narrative based wall pieces and small sculptures. Conceptually I explore ideas of childhood, relationships, communication, and home. Mainly, I focus on creating a visual for the complex emotions we experience in all types of situations and relationships. I believe allowing us to see what we usually keep hidden can help us as a society de-stigmatize and create a greater understanding of emotions in general as well as the emotional complexity of domestic situations and mental health issues.
There is no shock value in my work. I use bright colors to invite the viewer into my spaces and encourage them to project their own narrative onto my work. I intentionally leave any mistakes I make to be seen in the final product. The form is human and vulnerable. The finish is beautifully flawed. I do this to let the viewer notice that everything seems bright and clean at first but then notice things aren't always quite right. I encourage them to question why this seems off. I work to make the viewer feel both comfort and familiarity, as well as discomfort and uncertainty, mimicking the confusion many of us feel as children and/or adults that are or have been in difficult or problematic relationships with the people we love or the situations we experience.